Bildtjänsten Flickr har lanserat en möjlighet att posta sina bilder till Twitter. Slutresultatet blir ett tweet med text och tillhörande kortad URL, med Flickrs egna flic.kr förstås. Det här är ett alternativ till annars så populära Twitpic, vilken ofta används när det ska skickas bilder till Twitter.
Att posta sina Flickr-bilder till Twitter är lätt. Du behöver förstås både ett Flickr- och ett Twitter-konto, annars är det ingen direkt vits med det hela, inte sant?
Vi börjar med att knyta Twitter till vårt Flickr-konto. Det gör du från din Blogs-sida på Flickr, klicka på Add another blog-länken för att komma igång ifall du inte skickas dit automatiskt.
Välj "Twitter" i rullgardinen och klicka på Next-knappen för att gå vidare.
Nu vill Flickr att du ska godkänna att de får skicka uppdateringar på Twitter. Klicka på knappen Go to Twitter to authorize för att göra detta.
Du skickas nu till Twitter. Är du inloggad så behöver du bara klicka på Allow-knappen, men om du inte är det (som på bilden nedan) så måste du dessutom ange användarnamn och lösenord. Och klicka på Allow, som sagt, för vi vill ju att Flickr ska kunna uppdatera vårt Twitter-konto!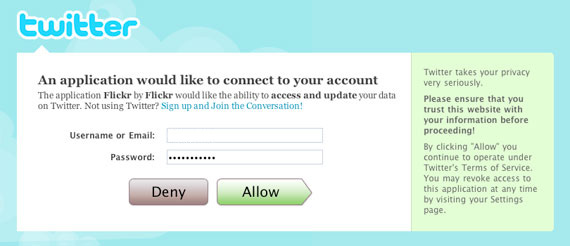 Klart! Vi skickas nu till en bekräftelsesida på Flickr. Här hittar du din unika e-postadress som låter dig e-posta bilder till Flickr, som då inte bara läggs till ditt Flickr-konto, utan även automatiskt skjuts ut till ditt Twitter-konto. Just e-postandet är väldigt smidigt om man är ute och vill skicka en bild från sin mobiltelefon till sitt Flickr-konto, samt till sina Twitter-vänner, samtidigt som det inte kräver att du skalar ned bildstorleken som MMS gör.